Jessie Pavelka is an American model whose photos are frequently usurped for romance scams
Jessie Pavelka is a model specializing in bodybuilding. He is also a television presenter in England and the United States.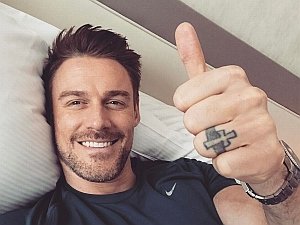 Jessie Pavelka was born in Texas in 1982. He played American football all his youth and at university before devoting himself to bodybuilding. Then, at the age of 20, he participated in his first bodybuilding competitions, where he achieved excellent results.
In 2007, he moved to California to devote himself to a new passion. He appears on the cover of several bodybuilding and men's sports magazines.
In October 2013, Jessire Pavelka launched the Pavelka Health Revolution brand with the British publicist Jill Tipping. The company offers wellness workshops and seminars across the UK.
Jessie Pavelka is a fan of tattoos.
He has a Japanese character on his left shoulder and a cross on his right arm. Also, an inscription for "Tomb Digger" in Chinese characters on his stomach, the words "For My Brother" on the side, the Greek letters alpha and omega on his wrist. Finally, his tattoo is a crossed ring on the left ring finger and flame patterns on the back.
Jessie Pavelka was married to Canadian film and television actress Sitara Hewitt. He separated from his wife Sitara Hewitt in mid-2015 and the divorce took place in late 2016. They have a son, Rowan, who was born in 2010.
He is also the cousin of the television personality and former participant in The Bachelor, Jake Pavelka.
The American model is also a very handsome man. Scammers have understood how to take advantage of it. Thus, scammers create fake profiles on dating sites.
Then, they try to approach women on the Internet by posing as the handsome man that is Jessie Pavelka. Once seduced, the crooks ask for money pretending a personal disaster.
Do not get fooled! do not contact or respond to a profile having the photos of Jessie Pavelka.