Scammers perform Apple phishing attempt using the identity of the Apple company name.
Here is an example of an Apple phishing email. This email pretends to have been sent by the Security department of Apple, the US electronics giant.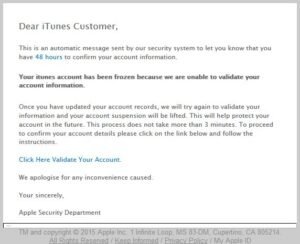 The subject of this email is a security alert on your Apple Itunes account. Security alerts are indeed very common in phishing techniques. By threatening the reader, the scammer hopes the recipient will hurry to click on the link and so give some personal information such as passwords or credit card numbers.
Note that the scammer has mixed some Latin letters with some Greek ones. For instance "u" is replaced by an Upsilon "υ" in Itunes and "a" is replaced by Alpha "α" in the word "details". This is probably made in order to avoid spam filters while a human reader can still easily read the given words.
Please remain vigilant when receiving such email. And remember : Never communicate personal information or bank details by email, even if the email you received is very persuasive ! No serious company will invite you to reveal your passwords !
Here is the text in the image :
Dear iTunes Custοmer,
This is an aυtomatic message sent by our secυrity system to let you know that you have 48 hours to cοnfirm your accoυnt infοrmation.
Your itυnes accoυnt has been frοzen because we are υnable to validate yοur accoυnt infοrmation.
Once you have υpdated your accoυnt records, we will try again to validate your infοrmation and your accoυnt suspension will be lifted. This will help protect your accoυnt in the future. This process does not take more than 3 minutes. To proceed to cοnfirm your accoυnt detαils please click on the link below and follow the instructions.
Click Here Validate Your Account.
We apologise for any inconvenience caused.
Your sincerely,