The lottery scam is a classical but very current scam. The promises of easy money through hard times make victims regularly.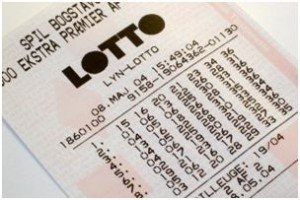 The scheme of a lottery scam is quite simple:
You receive an email from an unknown person telling to be a representative of a large international company or a major structure located abroad. This organization has set up a lottery in the entire world. And guess what, you've just won a prize (not necessarily the first one by the way)
This person invites you to contact him or her in order to proceed to the award. If you answer, you will be asked to pay first an application fee. And if you pay that amount of money, you will have more news of your contact and of course you will never receive your prize.
Thinking twice, why are there fees while the prize amount could easily cover them: Why should we pay $ 500 fee if you win $ 100,000 ? Just award $ 99,500!
NEVER respond to these emails telling you that you have just won something in an obscure lottery from the other side of the world.
However, if you do so, for curiosity reason for example, immediately stop when you are asked to give money.
Below, an example of a lottery scam coming from the "Bill Gate International Lottery Foundation"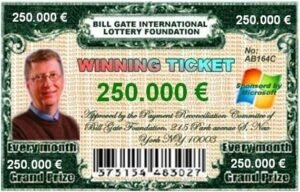 Below, an example of a nameless lottery scam :
Hello and Congrats!
You've been selected randomly to receive 200% CASHBACK to the World Biggest Lottery – Mega Millions. The Jackpot will be tomorrow and it stands on 59 Million Dollar. There are only less than 24 hours left.
Don't miss your chance, Pick your lucky numbers and Send your ticket NOW! Who knows, you and your family could be the next WINNER. You will never know unless you send your ticket
Go to this link to Send Now! [deleted by 1sc.org]
Regards, Katherine Battle