Fraudsters use OneDrive name to send phishing attempts
Microsoft OneDrive is a collection of online services: storage and applications Word, Excel, PowerPoint, and OneNote , but with fewer features than software installed on a computer. This service was created in 2007.
This service is an example of the concept of cloud computing. Because created by Microsoft, it is one of the most popular cloud computing services.
Fraudster understood that they could perform phishing attempts using the OneDrive name. They sent e-mails claiming one has issues with Onedrive and should click the malicious links inside the e-mails.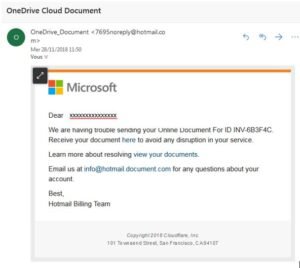 The text of the above picture is the following :
Dear xxxxxxxxxxx,
We are having trouble sending your Online Document For ID INV-6B3F4C. Receive your document here to avoid any disruption in your service.
Learn more about resolving view your documents.
Email us at info@hotmail.document.com for any questions about your account.
Best,
Hotmail Billing Team
Copyright 2018 Cloudflare, Inc.
101 Townsend Street, San Francisco, CA 94107