Mark Huizinga is a Dutch judo champion. His photos are used by crooks to commit romance scams

The people whose photos are usurped by scammers are sometimes models, sometimes actors, sometimes complete strangers. In the case of Mark Huizinga, the crooks selected pictures of an athlete. Indeed, he is a judoka titled at the Sydney Olympics in 2000.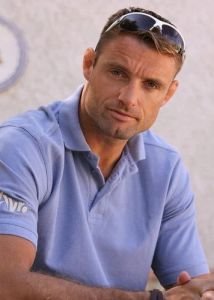 Mark Huizinga was born on September 10, 1973 in Flardingue, in the suburbs of Rotterdam in the Netherlands.
He is a Judo champion who lived the peak of his career from the late 1990s until the mid-2000s.
His main consecration was his title of Olympic champion, won in Sidney in 2000, in the category of less than 90kg.
He tried to reproduce his performance in 2004 in Athens but had to settle for third place, synonymous with a Bronze medal.
He had already obtained this metal in 1996 in Atlanta. But this time in the lower weight category, the one under 86kg.
At European level, Mark Huizinga competed in all the European Championships from 1994 to 2008. He won 5 titles there and never finished beyond third place. He is therefore model of consistency at a high level.
In 2005, he finished 3rd in the world championship in less than 90kg. Then he retired in 2008 at the age of 35, with a remarkable record.
Mark Huizinga is a handsome man and an accomplished athlete. This appeals to many people in the female population.
These photos exude a feeling of physical power and charisma. The crooks have therefore understood this and several fake profiles have been created on dating sites with the photos of Mark Huizinga.
Please note that the real judoka have nothing to do with these romance scam attempts. If you have received a message from a new contact showing these pictures, be sure that this is an attempt of romance scams. You should not respond and stop the relationship right away.