Johnny Sigal is a Venezuelan artist. Scammer usurped his photos.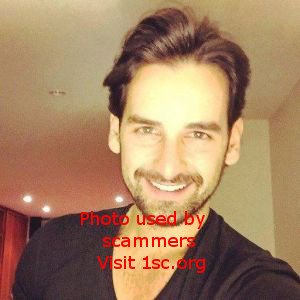 Johnny Sigal was born in Caracas, Venezuela in 1980. He graduated from Emil Friedman school where he studied music. At this time, he is already known as a singer, winning the first place in many festivals. He participates in parallel for a year and a half in a Latin band called "Son de la Calle".
At 19, Johnny Sigal was chosen to be part of a project about recording modern versions (pop) music of the 70s in Spanish. 3 men and 2 women, aged between 19 and 23 years, were part of this band. The project was recorded in Miami in the United States. With this group, he participated in high audience TV programs broadcasted in much of Latin America.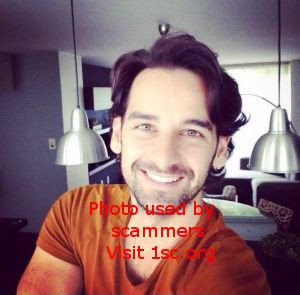 In 2003, Johnny Sigal participates in a reality show as a singer. A few months later, he recorded a solo album, signing with the "World Entertainment Group" label. This album included songs of famous songwriters such as Jorge Luis Chacin and Luis Enrique. But this project will not succeed.
He participated in the first album of the Tartara band, called "Trazos" and launched in July 2006. Their first single, "Dame tu cariño" (Give me your love) was positioned at the top of the music charts. It reached for 2 consecutive weeks the first place in Venezuela.
In 2007, Johnny Sigal started to prepare in Miami his first solo production.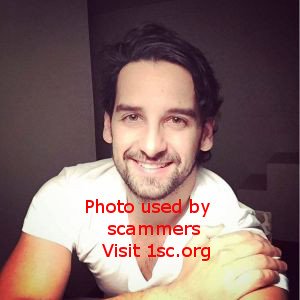 He worked with renowned Brazilian producer Marcello Azevedo, who has previously worked with artists such as Paulina Rubio, Chayanne, Julio Iglesias, David Bustamante, among others. The following year, Johnny Sigal released his first solo album. Amoun this album, singles such as "Quedo in Nada" (left with nothing) and "Sin tí" (Without you).
In May 2007, he also played the role of Jesus Christ in the Venezuelan version of the classic musical comedy "Jesus Christ Superstar" by Andrew Lloyd Webber and Tim Rice. He was accompanied by the Symphony Orchestra of Caracas.
In early 2010, Johnny is the guest artist during the concert of the Spanish singer Enrique Iglesias on his tour in Venezuela. In parallel, he pursues a national tour with the comedy "Jesus Christ Superstar".