Jörn Schlönvoigt is a German singer and actor whose photos are spoofed to commit romance scams
Jörn Schlönvoigt was born in Berlin on August 1, 1986. He began his career in music at the age of 16 by forming a punk rock band with his brother.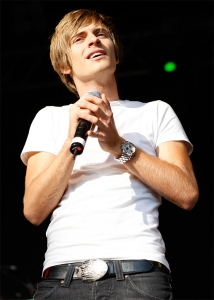 Yet it is as an actor that the career of Jörn Schlönvoigt will really take off. In fact, in 2004 he landed the role of Philip Höfer in the soap opera Gute Zeiten, schlechte Zeiten. This is a teen soap opera that deals with the lives of young adults in Berlin. This series is a great success.
Jörn Schlönvoigt stands out and becomes one of the soap opera's favorite characters. He already had a good number of fans at that time.
In 2007, he returned to his first love and released a record entitled "Das Gegenteil von Liebe" ("The opposite of love"). This title was a great success in Germany.
The German artist has released three albums to date, the first in 2007, the second in 2014 and the latest in 2017.
Jörn Schlönvoigt is not only a good singer and a successful actor. He is also a very handsome man. And the scammers were quick to realize that the photos of Jörn Schlönvoigt could be useful to them. Moreover, the German singer is little known, even unknown, outside the German speaking world.
The scammers then created fake profiles on dating sites by usurping photos of the German singer. His photos are not hard to find on the internet.
Then the scammers contacted hundreds of women looking for love. They were able to seduce them by displaying the photos of the handsome German man and by playing with their seduction techniques.
Ladies, if on a dating site you come across a profile with photos of Jörn Schlönvoigt, run away! It is necessarily a scam attempt that will end sooner or later with a request for money.